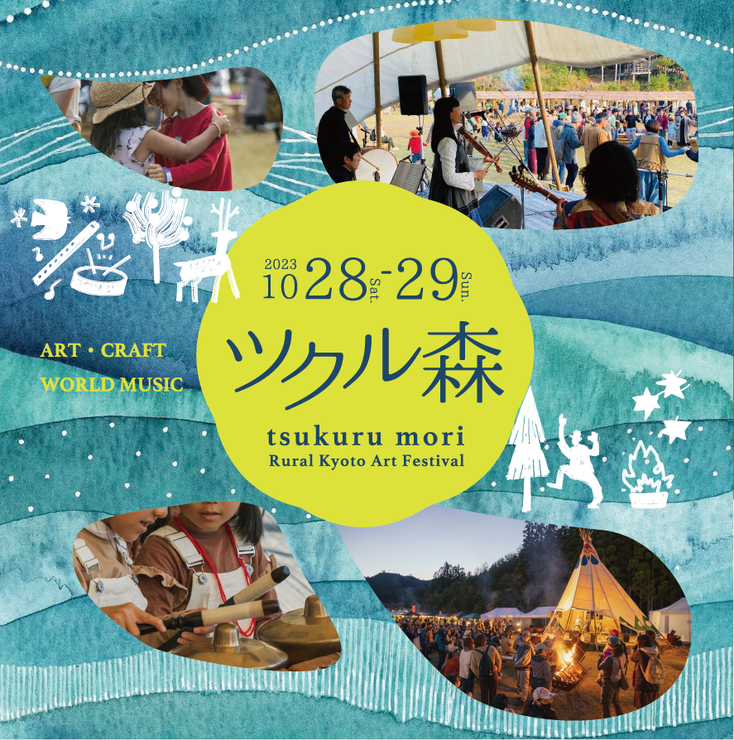 【Event】
2023 ,October 28th(sat)10am〜10pm/ 29th (sun)9am〜5pm  (Held even if it rains)
【Place】
AWL Keihoku(Kyoto Prefectural Seminar House) Parking Free
Toridani-2 Keihokushimonakachō, Ukyo Ward, Kyoto
【Ticket】
Online advance purchase of tickets
2Days 2000 yen / 1 Day1500 yen
same-day ticket 1 Day 2000 yen(Purchase ticket at the door)
(Under 17years old & Over 60 years old are free. Please show the ID)
We do not accept cancellations or refunds after application due to bad weather or customer reasons.
Direct bus service▶︎▶︎▶︎
Price(One way):1000 yen(tax included)/Person
Depart : Nijo Station West Exit Bus Stop 
Arrive  : AWL Keihoku
About ticket and bus booking
JTB Corp. Kyoto Branch  Attn: Kato, Fujimoto   Mail: link_kyoto@jtb.com
Please put Tsukurumori Inquiry as a title. Open10:00-17:30 (closed Saturdays, Sundays and national holidays)
 Hotel Booking:AWL Keihoku   tel:81-75-854-0216 
*For two-day visitors, please use the facilities of AWL Keihoku or nearby accomodations.
Kyoto has long been a place where people and cultures from around the world converged. Since ancient times, Kyoto has been connected to the world via the Silk Road, which connects the east and west sides of the Eurasian continent. Throughout its long history, Kyoto has nurtured its unique cultures as diverse people and cultures have repeatedly met and merged. Also, the lifestyle and culture inherited in the countryside of Kyoto is the footprints of encounters and fusions that have been accumulated over the years. Now the borders have reopened and people are inspiring each other, traditional cultures, music, and dances from all over the world are once again crossing borders and meeting one another as well. Tsukurumori is a rural Kyoto festival that seeks to share the "creativity" of traditional life and evoke resonance across borders.
Organic Cuisine
Enjoy delicious and healthy cuisine from approximately 20 restaurants, including international cuisine and vegan menus.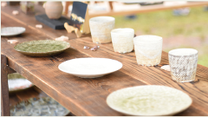 Art & Craft
Enjoy the wonderful works of Kyoto's unique artisans in ceramics, woodworking, textiles, dyeing, and more.
World Music
Kyoto Local Folk Dance meets the folklore music of the Silk Road, transcending time and space. It features a variety of folk dances from Romania, Greece, and Armenia.

Yordan Markov /Gadulka(Bulgarian stringed instrument)
Shiro Ishizaka /tambura(Bulgarian stringed instrument)
Keiichi Sato /Afghan rhubarb (Afghanistan Stringed Instrument)
Qais Essar /Afghan rhubarb (Afghanistan Stringed Instrument)
Shingo Masuda /Carnoon (harp from Arab and Mediterranean countries)
Mitsuru Nagata /Darabukka (drums used in Arab countries, Turkey)
Taro Kishimoto /Eastern European flutes, bouzouki (Greek stringed instrument)
Yoko Kumasawa /Violin
Keihoku Tamba Ondo 
Traditional Dance Association 
Keihoku Folk Dance Band
DJ/DJ Alcsidd PA/SLIM CHANCE AUDIO 
Produced by : Tsukuru Mori Association
sponsorship:Kyoto Prefecture, Kyoto Prefectural Board of Education, Kyoto City, Kyoto City Board of Education, Nantan City, Nantan City Board of Education, Kyoto Newspaper, KBS Kyoto, Adventure Forest,Terra Energy, ROOTS,  PERSPECTIVE, BEARS WOOD, LOGIN, Keihoku Do, JTB Kyoto branch, West Japan JR Bus and othersProduced by : Tsukuru Mori Association